Is SEO really helping you improve your online business or are people just deifying the power of SEO?
1. What Is SEO?
SEO stands for Search Engine Optimization.
That means we will perform a series of tasks (such as optimizing speed, website structure, linking, writing articles …) to help your website be well rated by Google and ranked in the top of Google's search results.
Note 1: Nowadays, there are many search engines such as Google, Bing, Yahoo, Yandex… However, because the number of people using Google search tool is huge, so when it comes to SEO, we all implicitly understand that it is an implementation of SEO on Google.
Note 2: When it comes to be rated at the top of Google search results, it means your website is displayed in the first 10 natural positions of the front page (non-advertising results containing "Ad").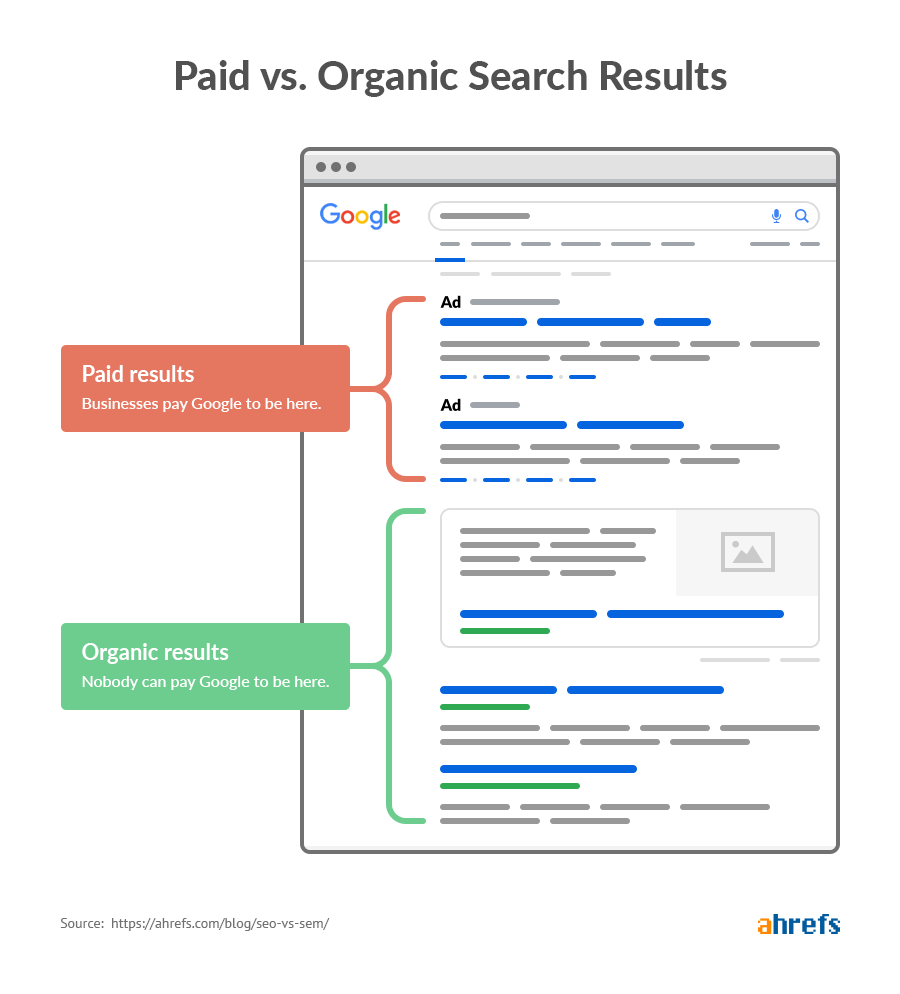 We need to understand the true nature of SEO: the ultimate goal of SEO is not Google, but website visitors, your customers!
Google wants users to be provided with the most accurate information and have the best experience on the proposed website, so that Google can survive and outperform other search engines. Therefore, if your website can offer useful information to visitors on Google, your website will be on the Top.
It can be understood that doing SEO is a combination of a series of jobs to optimize the website better to satisfy the visitor's information experience.
Apparently, Google will come up with standards for evaluation that are "coded" into algorithms and are usually updated every 3 months. The importance of the factors can change, but one thing is for sure that in order for your website to be stronger than other competitors and to rank high over time, SEO's mission is to work hard to help. The whole website adds real value to visitors, continuously and consistently every day, every year.
Although website SEO takes a lot of effort, its results are extremely attractive to online businessman!
2. What is SEO in Marketing?
SEO is the way we lead customers to the website by helping the website to top the keywords that customers search for.
A solid SEO marketing strategy will help increase website traffic, attract potential customers and revenue for your business.
Let's take an example of SEO in tourism industry. When you want to go on a trip, the first thing you do is search for information about the place you want to go first.
You can jump on Facebook chat to ask your friends, acquaintances, or ask colleagues who have been to and go to Google search.
But how will you find information on Google? It's very simple, just type a few keywords that suit your needs.
For example, "famous tourist destination in Saigon". After you have chosen the places to go, you will find nearby hotels such as "Hotels in Saigon" or "Hotels in Ho Chi Minh City", then "good restaurants in Saigon" and so on you search for information to fill your needs.
That is in terms of the searcher's role. What about those people who are managing businesses in Saigon, what should they do? They have to bring the website to you, or how their website will show up when you search for the above keywords, if its ranked in the first positions, it's most likely that you will click to visit their website.
Similarly, you have a website that sells certain products and services, you also have to SEO your website so when customers search for related keywords, your website will show up in high results on Google.
3. Benefits of SEO
Now that you understand what SEO is, you will see its benefits next!
Website is well optimized.
Website components such as: sitemap, speed, URL, tags, image size, title length, code language, etc. are optimized to meet Google's requirements. As a result, the quality of the website increases.
At the same time, when SEO for the website will also create a better user experience. For example, faster website speed helps visitors not have to wait long, operations become quick, reducing the possibility of customers leaving your website.
Increase sales opportunities.
Through choosing keywords that are close to the specific needs of customers, SEO helps you reach the right audience who are in need of buying. As a result, this is potentially high-converting traffic.
While needing to buy a certain product, all of us will immediately think of going to Google to search for product information, advice, and advice. If the website has more keywords to the top, the higher the traffic, the more likely customers will contact you.
Your business is "healthier" when customers actively come to your website.
While running other types of ads, customers are in a passive position, you have to find ways to "run to customers" and try to attract attention among thousands of other ads around. And this makes customers feel uncomfortable, being "crammed" with ads and spam.
In fact, today's users will not immediately believe in advertising, they always want to be in the active position to find out information.
With the effectiveness of bringing the website to the Top of Google, customers feel that they are actively searching with keywords that express their needs. They can actively choose which website to visit, and actively in the decision to contact the business.
Brand development on the Internet 24/7.
SEO helps push many keywords to a high position on search results. The more people you reach, the more your brand is known.
Between ad results and organic results, which one do you trust more? Google always tries to provide the most relevant results to the user's search needs. The higher the website's natural position, the more trustworthy it is.
When starting to do SEO, maybe the number of keywords to the Top is small and the search volume is quite limited, but they are the keywords that help you sell. After a while, your website is stronger, enough to SEO difficult keywords (usually short keywords, with high search volume), your brand can reach a wider audience.
Thanks to SEO website to Top Google, users can search keywords and find your products and services at any time, not only during the day, but also at midnight.
Cost savings.
The cost of doing SEO is not as high as some other forms of promotion, very suitable for small and medium companies.
With advertising per click (PPC), you will have to pay for both virtual clicks (clicks performed by competitors or by non-potential customers).
Meanwhile, SEO costs are the money you invest to make your website better and more optimized. These investment values ​​will live with the website. Even if you get thousands of visits per month from SEO results, you don't have to pay any extra for these visits.
Another advantage in terms of cost, your well-optimized website will help reduce the Google advertising bid (if you run Google Ads) thanks to the good quality of the website.
Powerful measurement capabilities.
SEO is a tool of Online Marketing. Therefore, it also has a strong ability to measure efficiency.
From the end results such as keyword rankings (using GWEBBOT, Ahref, …), traffic (Google Analytics) to parameters of the SEO process such as domain age, website speed, backlinks (your website link is attached on other websites). ), time on page, bounce rate, etc.
These detailed indicators all have tools to measure with a high degree of accuracy.
SEO is associated with the long-term business strategy of the enterprise.
Below we would like to share about the long-term results that SEO will bring to businesses. The values ​​always go along with the future development that the Enterprise wishes to aim for.
As for consumer behavior, they often ignore a natural reflex in their mind. That is a measure of their trust with brands, that corresponds to rankings on search results. Specifically, businesses and websites are displayed at the top position on SERPs. That means that website or business will be the top units that consumers always think of when remembering the products that the business is doing.
If you constantly optimize and strengthen the website's internal resources (typically publishing quality content), SEO will have a stable and long-term effect. With a sales page that has been on the top, the content of the page has been refined so that it has good buying power, then in the next 3 months, the next 6 months, maybe even the next few years or so, it will still continue. Continue to promote the value of your orders.
All the value you create through SEO is accumulated and lasts throughout the "life" of the website.
5. Summary
SEO is a solution to strongly increase sales opportunities on the website. You need to put SEO in your long-term business and brand development strategy. In particular, you should carefully choose an SEO unit, coordinate closely with them in two activities: SEO and Content Marketing.
Are you looking for more information to do SEO?
Contact HELIXGRAM –

A Global Brand Design & Innovation Agency

will give you a clear answer!